puuuh, es war Einiges los,
den Rest der Adoqué Platte aufgenommen mit der Band: grandios!
Dann der erste Gig mit Blue Touch Paper, und das beim Berliner Jazzfest! Große Aufregung und riesen Spaß.
Stephan hab ich direkt dabehalten, und er hat unfassbare Percussion Overdubs für Adoqué auf´s Band gezaubert.
Dann kam die Stundes des Charles M., aber das bleibt noch geheim…
Bilder & Soundschnipsel folgen demnächst, auch Adoqué Termine für Januar.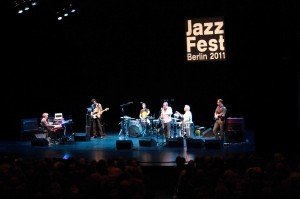 …these were some busy days
I finished the Adoqué recordings with the band, which was absolutely great.
Then we had the first show with Blue Touch Paper – at the Berlin Jazz Fest! That was exciting and big fun.
Stephan stayed in Berlin and he did some awesome percussion overdubs on the Adoqué recordings.
Then came Charles M., more about his excellent performance later…
Stay tuned, I´ll post some new footage soon and there´s some Adoqué shows waiting to be announced.